The Pricing Change
I let it be known about a month ago
that the group discount would be slowly fading from a all-year round thing, to something only available the first X amount of time. And I'm happy to say despite my fears, I've gotten very little gruff over the matter. The one person who seemed perturbed... I'm not entirely sure if she was confused or mad... sooo 0.5 complaints?
Transparency is important to me, so I do want to keep you guys informed about what is happening and what is going to happen.
First, none of the kits are going to stop being available. They're not going away!
Second, as we promised from the beginning, the price is staying 99L. We think it's a good price, small enough to make this a negligible purchase, large enough that we're able to keep doing this.
As of 7/1/2015 all kits older then 11 months are no longer eligible for the group discount.
Every day after 7/1/2015, a day is shaved off that 11 month period.
Brands that release a significant change/upgrade/newproduct... upgrading to Plugins, upgrading to Pre-Installed, adding a whole different sort of product (ie adding bodys when all you've done is bootys) will have a minimum of a 3 month period to allow those first waves of buyers to get their kits a discount.
The result of this is this schedule: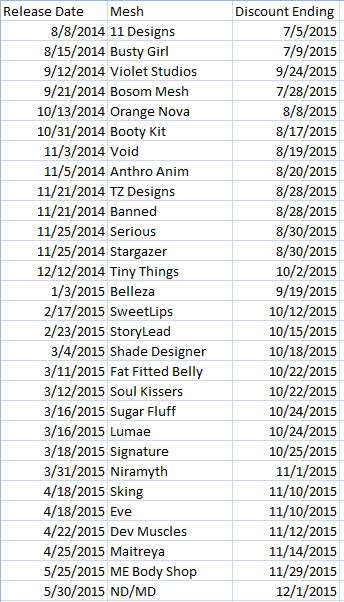 Why are we doing this? Well if you missed the original post on the matter, you can read it
here
.